DENTAL UNIT WATERLINE MANAGEMENT
Keeping dental unit waterlines free of bacteria and biofilms is the easiest way to minimize the risks posed by opportunistic, waterborne pathogens during routine dental procedures.
Products that SHOCK your water
Non-oxidizing formula cleans dental unit waterlines and kills odor causing bacteria.
Cleans the inner surface of dental bottles
---
Does not adversely affect composite bond strength
---
Safe for dental equipment including amalgam separators
---
Cleans dental unit waterlines to ≤ 10 CFU/ml
---
Products that TEST your water
MyCheck™ In-Office Dental Water Test
MyCheck is an in-office dental waterline testing kit that screens dental unit waterlines for bacteria and provides an estimated heterotrophic plate count (HPC) to indicate compliance with the CDC and EPA guidelines of <500 CFU/ml.
Simple "pass/fail" results
---
Affordable and easy to use
---
StandardCheck is an R2A HPC mail-in test kit that is an EPA validated test method known as the "Gold Standard". This innovative, top-tier technology is sensitive enough to recover slow growing, chlorine tolerant bacteria.
Results in 5–7 business days
---
Certified third-party lab results
---
Water quality report with high-resolution images of each chair sample
---
RapidCheck is an express 24-hour mail in dental water test—the ideal solution when you need to know quickly!
Wider spectrum of bacteria captured compared to other test methods
---
Refined and perfected cytometric process catches bacteria that would otherwise be uncounted by other methods
---
Products that MAINTAIN your water
Engineered to efficiently and effectively maintain dental waterlines for 365 days, the Sterisil Straw delivers industry-leading waterline treatment without the problems associated with oxidizers like iodine and chlorine.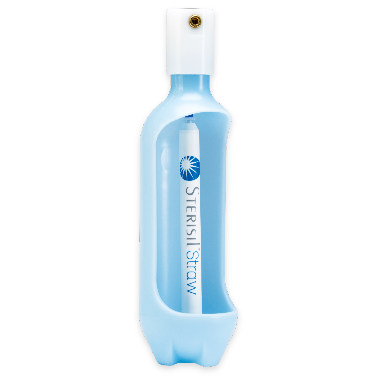 EPA-registered to maintain effluent handpiece water to ≤ 10 CFU/ml
---
Initial installation takes less than a minute
---
Integrated shock treatment releases automatically.
---
Sterisil Cartridges are the most powerful direct feed waterline treatment cartridges on the market delivering silver-ion technology to purify and treat dental water direct to dental units.
EPA validated treatment claim: ≤ 10 CFU/ml with shock treatment included
---
Prevents hard water deposits and does not adversely affect composite bond strength
---
Valved and inline configurations available
---
Sterisil® Antimicrobial Bottle
The Sterisil antimicrobial bottle resists the growth of bacteria on their surfaces and is ideal for preventing growth of bacteria.
Eliminates the need for flushing and the use of corrosive chemicals
---
Reduces line clogging, water flow restrictions, and sticky handpieces
---
Citrisil™ Maintenance Tablets
Citrisil maintenance tablets are a simple solution to maintaining dental unit waterlines. It's the only all-in-one tablet solution that includes a shock treatment to ensure complete compliance is achieved.
Cleans and maintains dental unit waterlines to ≤10 CFU/ml
---
Includes shock tablets to kill pre-existing odor-causing bacteria
---
Eliminates the need to empty bottles and purge lines at the end of each day
---
Does not adversely affect composite bond strength
---
"We could not be happier with the ease of managing our dental unit waterlines with Solmetex products. They make infection control simple for our staff. We prefer silver to treat our water over iodine because there are no complicated maintenance instructions and we don't have to remove our straws to shock or test. This is such a time savings! And we can trust that our water is clean without any foul odor or taste, which is something our patients expect and appreciate."
Kevin Seidler, DDS
The Colony, TX
Learn more about our complete line of Dental Unit Waterline Management solutions:
ISOLATION AND AEROSOL CONTROL
Isolation and aerosol control prevents the spread of airborne diseases and protects dental patients and staff.
Our DUWL (Dental Unit Waterline) management products are grouped into three categories:
SHOCK, TEST,
and
MAINTAIN.
Shocking refers to the process of saturating waterlines with a chemical agent to kill or remove biofilm, bacteria, and other microorganisms that can accumulate inside the waterlines over time.